The comeback of Rose Gold
Posted in: Feature
Rose Gold was popularised by the Russians' back in the 19th century and was seen again in the Mid-Victorian era. Fast forward to the 21st century and Rose Gold is making a serious comeback. A modern feel combined with the antique and vintage look due to its history and blush hues sets this metal apart from the rest in a truly unique way.
The blush rosy tones are created from the addition of copper to yellow gold. As pure gold is too soft for everyday jewellery wear, other alloys are always added to increase strength and durability. In the case of rose gold, the other alloy is copper which also gives it its distinct colour. Rose Gold is a feminine and unique choice, that looks soft and warm against the skin and allows white diamonds to really pop. We are excited to see it making a comeback.
Here is a selection of our ring designs that we just love in Rose Gold!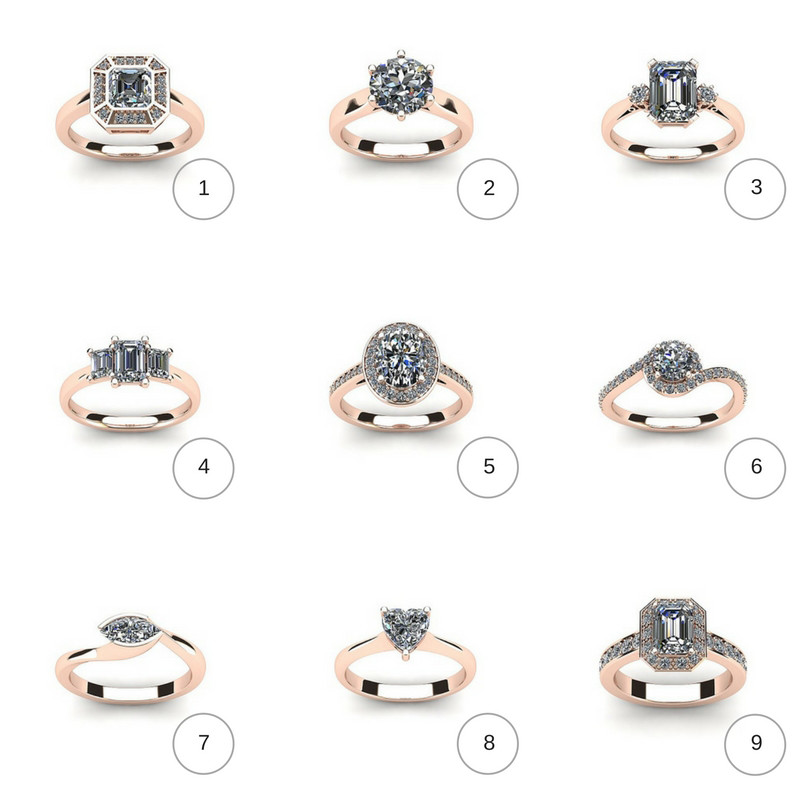 1. The Frances Setting, priced from $800, 2. The Victoria Setting, priced from $615, 3. The Aurora Setting, priced from $775
4. The Adeline Setting, priced from $3,170 5. The Zoe Setting, priced from $1,175 6. The Cleo Setting, priced from $995
7. The Uma Setting, priced from $625 8. The Lydia Setting, priced from $620 9. The Esme Setting, priced from $1,790